Books:
Here's the book that first helped me flesh out my idea:
Alma Mater: Design and Experience in the Women's Colleges from Their Nineteenth-Century Beginnings to the 1930s, by Helen Lefkowitz Horowitz.
The guiding idea of this book is that the architecture and modifications made to buildings at women's colleges over the decades reflected each school's philosophy about educating women and shaping their private lives, within a culture that was conflicted about women as academics.  In addition to the architectural slant, Horowitz provides wonderful detail about traditions and day-to-day life in the Seven Sisters colleges.  A valuable resource.
These two books I continue to consult, again and again:
The 1897 Sears, Roebuck & Company Catalogue.
Sears offers a treasure trove of goods, from abdominal corsets to Zulu guns.  The pictures are hand-drawn, and include plenty of written descriptions.  The catalog gives one a sense of the products, fashions, and items needed in day-to-day 19thc life.  We also encounter the terminology and turns of phrase in use at the time.
Victorian Fashions & Costumes from Harper's Bazar, 1867-1898, Stella Blum, ed.
These are fashion plates from Harper's Bazaar Magazine, and organized into various fashion decades:  "Bustles and Puffs," "Natural Form and Cuirass," "Return of the Bustle," and "Hourglass Figure."  The descriptive captions are original to the plates, and there is a helpful glossary of terms.  Good thing – anyone know what a cuirass is?
Other great books:
American Victorian Costume in Early Photographs, Priscilla Harris Dalrymple.
This collection has the benefit of containing actual photographs, rather than sketches.  It too is divided into decades of the 19th century, with ample captions to explain the details of fashion trends.

Richter, Amy G. Home on the Rails: Women, the Railroad, and the Rise of Public Domesticity. University of North Carolina Press, 2005.
This scholarly book described in wonderful detail what it was like for women in the mid-to-late nineteenth century to travel on trains. The bibliography alone is a treasure trove of resources.
Rae, John W. (East Hampton Library). Images of America: East Hampton. Acadia Publishing, 2000.
This book was especially useful in writing the sixth novel of my Concordia Wells series, Unseemly Honeymoon. Besides the wonderful historical pictures are descriptions of the architecture, town life, renovations and improvements, travel, terrain, and more.
Suffolk County, Long Island in Early Photographs: 1867-1951. Dover Books, 1984.
The photographs are plentiful and quite helpful in establishing a sense of place. The pictures are accompanied by substantial descriptions of aspects of Long Island life at the time: the fishing industry, wealthy estates, village life, farming, local industry, and more.
These free digitized books have been really helpful, too:
Geer's Hartford City Directory (1896).  Not only does it contain names, addresses, and phone numbers, but the advertisements are interesting, too.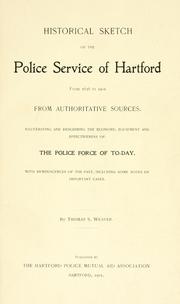 Historical Sketch of the police service of Hartford, 1636-1901, Thomas S. Weaver.  It's loaded with photographs, rosters, and humorous anecdotes of criminals and policemen.
The Book of Household Management, by Mrs. Beeton.  It went through numerous editions, but the one available  digitally is from 1888.  In addition to overall background for my novels, I've used it in several posts, especially this one.
Appletons' General Guide to the United States and Canada: New England and Middle states and Canada. D. Appleton and Company, 1898.
 A Brief Illustrated History of the Palace Hotel in San Francisco. www.thepalacehotel.org
Car Service Rules of the Operating Department of Pullman's Palace Car Company, Revised Sept. 1st, 1893. Pullman Company. W.H. Pottinger, printer, 1893.
Rand-McNally Official Railway Guide and Hand Book. American Railway Guide Company, 1902.
The American Slang Dictionary (1891), James Maitland.
Manners and Social Usages, Mrs. John Sherwood. Harper and Bros, 1901.
Appleton's Illustrated Handbook of American Summer Resorts: with Tables of Railway and Steamboat Fares (1894).
Telephone Magazine: an Illustrated Monthly Magazine, vols 23-24 (1904).
History of Long Island: from its Earliest History to the Present Time (1905).
Links, in no particular order:
Chronicling America: Historic American Newspapers (1836-1922)
The New York Times Archive (1850-1980) *NOTE: NYT now charges a membership fee to use this archive*
Memorial Hall Museum (American history; includes activities for school-age children)
Library of Congress (pics, sketches, documents, articles, even audio files)
Connecticut Trolley Museum (street rail in Connecticut)
Restaurant-ing Through History (Jan Whitaker's blog)
The Nineteenth Century in Print (digitized periodicals)
Wellesley College's Digital Collections (great college pics from the 19th century)
19th century websites (I know: a website collection of websites, but it's handy to have a lot of them in one place, and categorized)
The National Women's History Museum: the History of Women and Education (with biographies and a timeline)
Connecticut Historical Society – Online Catalogs
University of Connecticut – Digital Mosaic (digitized image collections of maps and photographs)
Five College Archives Digital Access Project (collections from Amherst, Mt. Holyoke, Smith, UMass, and Hampshire College)
American National Biography Online
Central Pacific Railroad Photographic Museum. www.cprr.org
 A correct map of the United States, showing the Union Pacific, the overland route and connections. Knight, Leonard and Company, 1892. LOC.gov
The Pullman Era. Chicago Historical Society.   www.chicagoohs.org/history/pullman.html
Yale University Library – Nineteenth Century America (primary source databases)
NYS Historic Newspapers. A database of New York newspapers, going all the way back to 1790.
Sagamore Hill, home of Teddy Roosevelt (Oyster Bay, NY – pictures and video tour)